Wine is not made in the winery, but, mostly in the vineyard: the fruit of the vine reflects the story of the terroir, the weather cycle that year, the heat, light, rainfall, the health and grooming of the vines. One can never make good wine from poor grapes, one can never make authentic wines by using chemistry to cover up shortfalls or to bolster nature's yield.
The terraced vineyards at Ta' Betta are trellised along the north to south axis: in summer, the foliage and the shadow one trellis casts on the next, as the sun traverses east to west, allow one to protect the grapes from excessive direct sunshine. The vines moreover are well ventilated given that the prevailing winds on the island are the north-westerly Mistral and the north-easterly Grigal.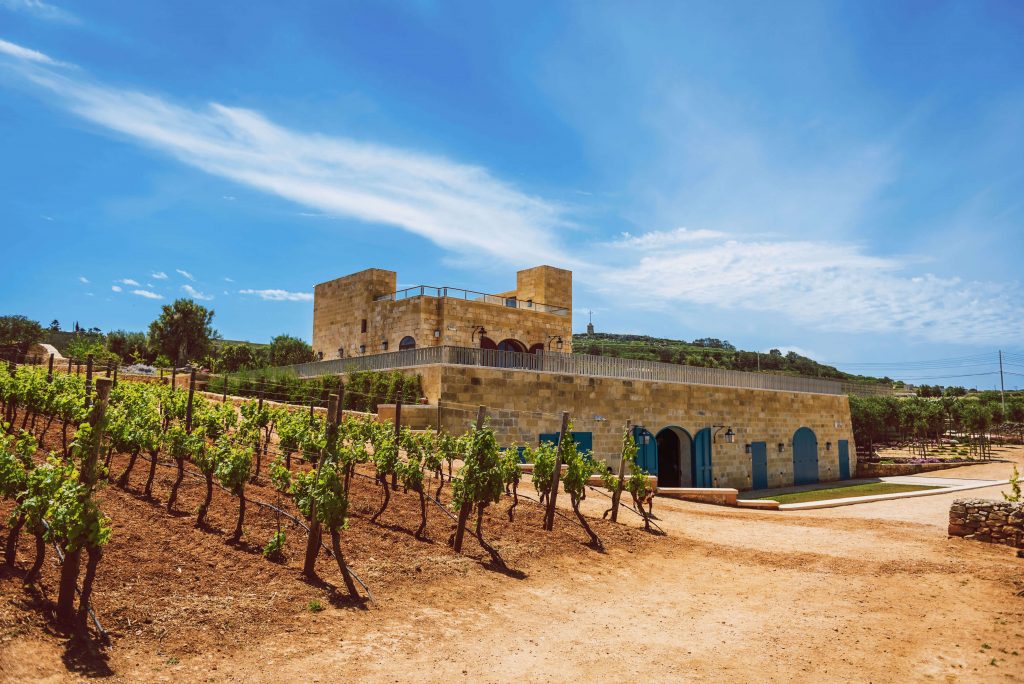 Situated on a relatively high vantage, has the added advantage that Ta' Betta is typically 2oC to 3oC cooler than seaside towns on Malta's coast, allowing the vines to rest better in winter, and for a more prolonged maturation of the grapes during summer.
The soil is alkaline with a somewhat high composition of active calcium which means that the choice of rootstock for our vines was a determining factor for the health of the vines down the line. The soil depth varies between one-and-a-half to three metres in most areas: the undersoil is medium-sized hardstone rocks in the lower terraces, and porous fissured soft globigerina limestone in the upper terraces, thus the drainage of water to the subsoil is excellent overall. The roots have ample opportunity to barrow and anchor the vines deep in the subsoil.
Harvest typically starts with Chardonnay around mid to late August, followed by Merlot, Cabernet Franc and Syrah in early to mid-September, and completed with Cabernet Sauvignon mid to end of September. Each year comes with its story and challenges. A judicious balance must be struck between the health of the vines and grapes, in the backdrop of the weather forecast: wind, humidity, the threat of a torrential downfall, or the prospective menace of a severe heatwave. Each year, we seek to capture that story in a glass to be savoured in years to come.
The advantage of being a boutique wine estate comes to play, as we can determine not only which varietal is harvested when, we can also decide to split the harvest of a varietal in two: for example, harvesting a batch of Chardonnay early to pronounce acidity, and a second batch a couple of weeks later to gain structure, sugar, and roundness. Grapes are pressed immediately as they are harvested to preserve their character.